Macmillan News Winter 2016
Hello again,
Macmillan Solutions Manchester welcomes applications from all members of the community who are       interested in volunteering with us.  We are committed to supporting individuals in the role, developing new and existing skills and ensuring everyone is equipped to support people affected by cancer.
Part of our training in December for volunteers involved a one day course on Emergency First Aid which   included how to act safely in an emergency, treating minor burns, cu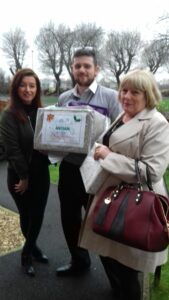 ts, & bruises, resuscitation methods and using equipment such as a defibrillator – a device that checks the heart rhythm and sends an electric shock to the heart to try to restore a normal rhythm.   This course gave people the confidence and skills needed to save lives, whether this is a family member, friend, neighbour, person affected by cancer or even a total stranger.
Participants are issued with a certificate (approved by the Health and Safety Executive) that entitles them to be an Emergency First Aider in the Workplace for a period of 3 years.
Our training in 2017 begins with the Induction to Volunteering on Saturday 11th February 10a.m.-4p.m. and will be delivered by one of our experienced volunteers Sue, alongside Volunteer Support Workers.  The    induction course takes place every two months and held either at Northmoor or over in Salford at Audacious Church.  There will also be another chance to do the Emergency First Aid.
If you would like to fi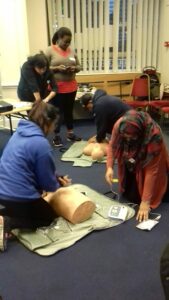 nd out more about any of the roles do get in touch with Paula (details below) or look at our new website www.macmillansolutions.org.uk.
At this time of year, people enjoy the gift of 'Giving' and Macmillan Solutions Manchester wants to say a BIG THANK YOU to all our volunteers who have spent almost 6000 hours supporting local people affected by cancer this year.  All contributions are much appreciated and valued by us and the people who have been supported over the year.
Another BIG THANK YOU for their generosity goes to one of our partnership teams, Lloyds Bank who have collected, donated and delivered Hampers to some of the people affected by cancer that we have been    supporting across Manchester during 2016.
For further details you can email Paula on macmillannorthmoor@audaciouschurch.com or ring/text 07710249207 or pop into Northmoor Community Centre for a chat.  There will be a chance to meet other volunteers at the informal lunch on Wednesday 25th January from 12 noon at Northmoor Community      Centre's Café so do come along, you will be very welcome.
"Make 2017 a Happier New Year and become a Volunteer" . . . .  DO FEEL FREE TO PASS IT ON!