Proud to be a Manchester charity to win Garfield Weston Foundation award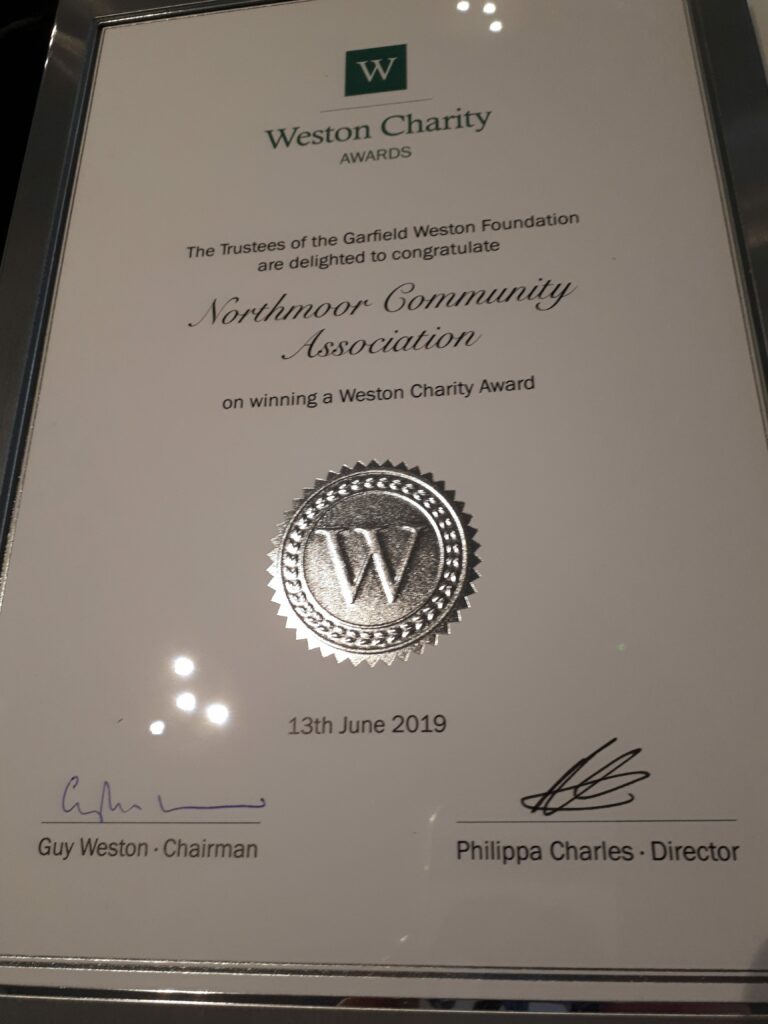 Philippa Charles, director of the Garfield Weston Foundation said:
"These local Weston Charity Awards recipients have been selected due to the strength of their ambitions and their demonstrable openness to constructive challenge and external perspectives. Their impact extends far beyond their direct service users."
The year-long coaching programme between the winning charities and their team of business leaders is facilitated by another charity, Pilotlight, whose CEO Gillian Murray said:
"Small charity leaders in Manchester face the constant pressure of frontline issues which can divert resources away from longer term thinking. Through the Weston Charity Awards, these three local charities will continue to do their great work whilst working on transformative plans to make an even greater impact on the communities they serve for years to come."
The Garfield Weston Foundation responds to small charities' need for insight and strategic skill sharing from the business sector
More than four in five small charities are looking for businesses to contribute professional support in 2019
Five years on, the community of Weston Charity Awards winners approaches 100 and steps up peer-to-peer initiatives
Paul Sartori Foundation, a Welsh charity providing a hospice at home service, won a Weston Charity Award in 2018. Their Clinical Team Manager, Laura Hugman, has benefitted from their charity's year-long engagement with a team of business coaches. She said:
"The time away from the office has strengthened the senior team. Strategic questions raised as part of the process will no doubt help the sustainability of our charity."
With the number of Weston Charity Awards winners now approaching one hundred charities, this growing network of past and current winners are now being offered additional opportunities for peer-to-peer collaboration. Gillian Murray, chief executive of Pilotlight, a charity that connects the business and voluntary sectors to make both more effective, and whose 'Pilotlighter' volunteers form the teams to help each Weston Award winner said:
"The growing number of organisations applying to the Awards is a clear signal about the need for this initiative. We are proud to see the results to date and the value-add our partnership with the Foundation is bringing to the sector."
About the Weston Charity Awards: The Awards celebrate and support great frontline charities working in the fields of community, welfare and youth. Run by the Garfield Weston Foundation with Pilotlight, charities with incomes under £5 million in the North of England, the Midlands and in Wales can apply. Initially launched in the North East of England in 2014, the Weston Charity Awards quickly expanded to the North West, the Midlands and, in 2018, Wales – areas identified by the Foundation as having the greatest need.
About the Garfield Weston Foundation: Established over 60 years ago in 1958, the Garfield Weston Foundation is a family-founded grant-making charity which supports causes across the UK with grants totaling around £70million annually. It has donated over £1billion to charities since it was established. One of the most respected charitable institutions in the UK, the Weston Family Trustees are descendants of the founder and take a highly active and hands-on approach. The Foundation's funding comes from an endowment of shares in the family business which includes Twinings, Primark, Kingsmill (all part of Associated British Foods Plc) and Fortnum & Mason, amongst others – a successful model that still endures today; as the businesses have grown so too have the charitable donations. From small community organisations to large national institutions, the Foundation supports a broad range of charities and activities that make a positive impact in the communities in which they work. More than 1,800 charities across the UK benefit each year from the Foundation's grants.
About Pilotlight: Pilotlight is an award-winning charity that connects Pilotlighters (its business members) with charitable organisations, to unlock solutions that help charities become more effective and sustainable. Since 2003 Pilotlight has supported over 700 charities and social enterprises tackling social disadvantage in the UK. Pilotlight's impact report 2019 shows that two years after completing the Programme, on average, charities have increased their turnover by 46% and are reaching 36% more people.
About the Weston Charity Awards Small Charity Leaders Insight Report 2018-19: The Garfield Weston Foundation and Pilotlight conducted an online survey amongst 371 charity leaders in England, Wales and Scotland in October 2018. All worked for charities with incomes under £5 million. Charity leaders who responded were predominantly CEOs or Chairs. They were asked a series of questions on the challenges they had faced in 2018 and their expectations for 2019.